>
Home
>
About Us
Meet the Pastor
David Merling, Ph.D., has been the pastor of the Albuquerque Heights Seventh-day Adventist Church since April of
2011.  He holds a B.A. in Theology, a masters of divinity (M.Div.), and a Ph.D. in archaeology.
Before he came to the Heights, Pastor Merling was a professor of archaeology and history of antiquity at Andrews University. Among the many classes he taught were archaeolgy, biblical geography, and Hebrew.   In his 21 years at Andrews University, he served as the curator of the Horn Archaeological Museum and co-director of the Tell Jalul excavations at Tell Jalul, Jordan. 
His work gave him the opportunity to travel regularly to Israel, Jordan, Syria, Egypt, Lebanon, Turkey, and Europe.  He has also taught in India, Puerto Rico, and Australia.  His hobbies include books, reading, flyfishing, golf, and hiking.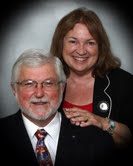 Dr. Merling has been married to Stephanie Caroline Merling since 1969 and they share two adult children, David, Jr., and Jeremy.  Stephanie is a speech-language pathologist having a master's degree and national certification (M.A., CCC-SLP) in speech-language pathology. She also shared in Pastor Merling's career in ministry and archaeology by traveling with him to archaeological sites and serving for many years as Tell Jalul's ceramic registrar.